Appalachian Advocates Prepare for Fifth Annual Week in Washington
Cross-posted from Appalachian Voices
By Megan Naylor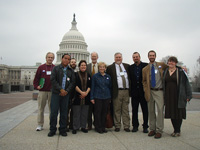 West Virginia lobbyists gather in front of the Capitol during the End Mountaintop Removal Week in Washington. Photo by Dana Kuhline
With the start of the New Year comes a new opportunity for citizens to assemble in the nation's capital to meet with Congressional leaders about legislation barring mountaintop removal.
The Fifth Annual Week in Washington, hosted by The Alliance for Appalachia, runs from March 6 to 10 in Washington D.C., and brings together citizens from the Appalachian coalfields and across the nation to lobby members of congress about the Clean Water Protection Act and the Appalachia Restoration Act.
Participants engage in an action-packed week full of new friends, training and lobby visits. Training day covers updates on policies affecting mountaintop removal, tips for effective lobbying, and presentations by affected citizens and non-profit organizations involved in the push for legislation against mountaintop removal.
The following three days of the event are dedicated lobby days where participants are given the opportunity to exercise their civic rights and speak with members of Congress and their staff about ending mountaintop removal.
"Attending Week in Washington can change your life in many wonderful ways," said Stephanie Pistello, National Field Coordinator for Appalachian Voices. "In addition to learning more about the legislative process firsthand, you make special friendships with like-minded people from across the country, including the very people who live in the mountains we are saving."
This year offers the opportunity to lobby for the passage of the Clean Water Protection Act (H.R. 1310) in the House as well as the Appalachian Restoration Act (S.696) in the Senate. If passed, these bills would play a critical role in stopping the effects of mountaintop removal coal mining.
In 2009, over 150 people from 23 different states attended Week in Washington and engaged in and hundreds of meetings with Congressional offices.
Due to congressional meetings held during Week in Washington 2009, the Clean Water Protection Act now has 164 cosponsors in the U.S. House of Representatives and the Appalachian Restoration Act has 10 cosponsors in the U.S. Senate.
To follow this year's Week in Washington or to find out how you can become involved in the mountaintop removal campaign, visit iLoveMountains.org.
Read the original post here:
Appalachian Advocates Prepare for Fifth Annual Week in Washington