April/May, 2011 — Our Changing Climate
Flip Through the Full Print Version: Issuu viewer • Downloadable PDF
In the scientific community, the climate change debate is over—whopping ninety-four percent of experts agree that the climate is warming due to human activity. But due to a well-funded campaign by the fossil fuel industry, the number of American citizens that believe in climate change has dropped to an all-time low. The security of our economy, ecology, food and water hinges on what we do to stem the tide. Can Appalachia survive the uncertainty of our changing climate?
Appalachia and our Changing Planet: Climate change could mean forest fires, water stress, and disappearing species for our region
Other Features
Take Me To The River(fest) – Join the fun this summer in Valle Crucis with our 2nd annual salute to Appalachian rivers and Appalachian Voices!
Environmental Summer Camps – Summer is just around the corner, and that means it's time for camp! We have compiled a list of environmental camps to help get your kids outside and learning this summer.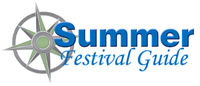 Music Festival Guide! Grab your hat and dancing shoes and stock up the cooler, it's time for the long, glorious days of summer music festivals! We have compiled a list of some of the best festivals to take place in and near Appalachia, featuring (lots of) bluegrass, blues, and good old rock and roll. Book your campsite now!
REGULARS