Hidden Treasures – Virginia
Cross-posted from Appalachian Voices
400 hundred years of U.S. history and an eternity of natural wonders run from the Appalachian Mountain Ridges to the Shenandoah Valley and on to a coast that is one of the south's finest.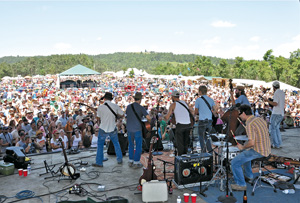 Playing to the crowd at the 2010 FloydFest. Photo by Russ Helgren.
Music Tourism Gives Floyd Economy a Boost
By Bill Kovarik and Jason Coleman
If there is a poster child for music, art and recreational tourism in Appalachia, it would have to be Floyd, Virginia.
For most of the 20th century, Floyd County was just another sleepy farming community along the Blue Ridge Parkway, known for little more than high-octane moonshine.
But over the past two or three decades, as retirees and other refugees from urban life settled here, a thriving music, arts and crafts scene came together in a dozen different venues.
Mining the Beauty out of the Mountains
By Jillian Randel
Virginia, with all its natural wonders, is not immune to the same threats as neighboring states, West Virginia and Kentucky. Mountaintop removal practices plague the southwestern part of the state. A permit is currently pending for Ison Rock Ridge, a surface mine that, in addition to exacerbating health effects associated with current surface mining practices, would destroy three miles of streams and fill nine valleys with more than 11 million cubic yards of rock and dirt. Visit: samsva.org for more information.
Today you can find concerts, gallery openings, wine tastings, art classes, renewable energy workshops, poetry readings and local theater productions going on more or less constantly.
Floyd's musical reputation goes back to the dawn of the bluegrass era. In the 1980s, local bluegrass bands began playing at the Floyd Country Store every Friday night. The store became a fixture of bluegrass culture and, recently, an important anchor for the "Crooked Trail" heritage music tourism route through southwestern Virginia.
Another major contributor to the music scene is Floyd Fest, celebrating its tenth anniversary this year. Kris Hodges and Erica Johnson, restaurant owners in Floyd, wanted to bring world-class entertainment to the New River Valley. What began in 2001 as a gathering of 1,500 like-minded rock and bluegrass lovers has grown to about 12,000 people enjoying entertainment from around the world.
"Our vision was to produce a world music festival for the entire family and that's not just a catch phrase, we mean it," said Linda DeVito, operations director for Across the Way Productions. "We pride ourselves in the fact that most of us have kids, we wanted to provide a festival where a patron, even us, would feel comfortable in bringing our kids to."
Still other music venues include the Dogtown Roadhouse with concerts every weekend, the June Bug music education center and the National Music Festival, a classical music festival starting this May that, organizers hope, will be an annual event.
Floyd is also known as a Mecca for serious artists and crafts folk, and their anchor is the Jacksonville Center—an old barn near town that was converted ten years ago into an art studio with a gallery featuring pottery, textiles, painting and crafts shows.
According to Lydeana Martin, the county's community and economic development director, music and arts tourism brings an estimated $18 million a year and at least 200 jobs to Floyd.
Efforts to take advantage of tourism and broaden the county's economic base include an expanded farmers' market and two new county task forces to address land policy and agriculture and forest economic viability.
Visit: floydvirginia.com