"Not Your Average Farm Band": 2/3 Goat Singing to Stop Mountaintop Removal
Cross-posted from Appalachian Voices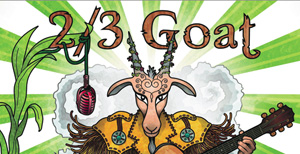 2/3 Goat are trying to get the goat of the coal industry, and we support them whole-heartedly.
The NYC-based, self-proclaimed "metrobilly" band is joining forces with Visualantes, a production company out of New York, to create a music video of their energetic and engaging song about mountaintop removal, "Stream of Conscience."
The video will be a hybrid of a short film and a music video, with a central character being a girl whose plight it is to save the land she is connected to.
Become a producer – help them raise $5,500 they need to kick in their part of the project.
2/3 Goat is fronted by the haunting vocals of Kentucky native Annalyse McCoy (her father, Mickey McCoy, is a coalfield resident and a very active member of Kentuckians for the Commonwealth) and the soulful singing of New Jersey guitarist Ryan Dunn. The band fuses folk, blues, rock and country with a contemporary spin, echoing their diverse origins.
Help the band reach their goal by spreading the word on their music video project!
2/3 Goat Coming To A Venue Near…Us!
We just received the wonderful news today that 2/3 Goat will be making a stop in Boone, N.C. two nights from how! On Thursday, May 19, they will make an appearance on stage at Galileo's Bar and Cafe near downtown Boone from 10 p.m. to midnight. Come join us for a late snack and listen to some achingly excellent metrobilly rock!
Learn more about 2/3 Goat on their website
Read the original post here:
"Not Your Average Farm Band": 2/3 Goat Singing to Stop Mountaintop Removal